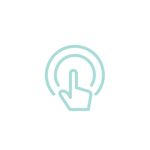 Step 1
Choose a plan that will work best for you. We offer three plans: Basic, Premium and Platinum.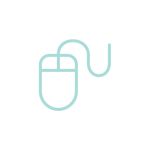 Step 2
Create an account. You will create your login and password and enter your credit card information.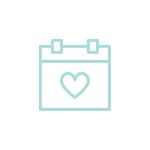 Step 3
Schedule your first sit! Select the time and date you need a sitter.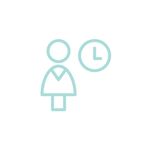 Step 4
A roster of available sitters will be displayed. Learn about the sitters and pick the one that works best for your family. You will be able to see the locations that the sitter will accept sits and if they are COVID-19 vaccinated. Then click BOOK! Your sitter will have 48 hours to confirm the sit and you will receive a confirmation email once they confirm.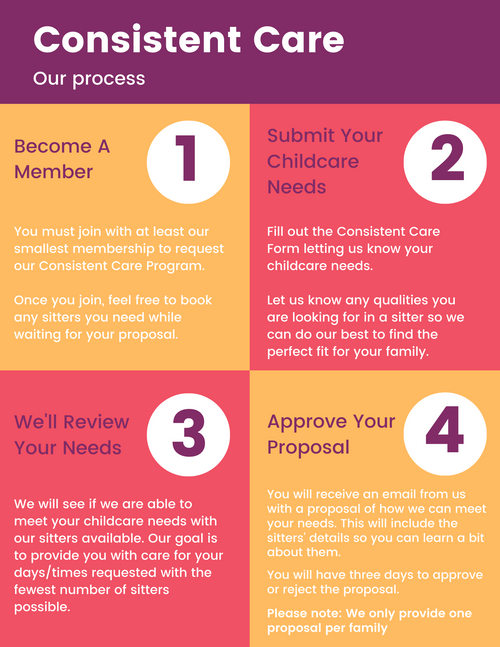 This program is designed to help families with short term consistent care for 6 weeks up to 3 months.
Our Consistent Care program was created to match sitters to families who are interested in care 20-40 hours/week with the same sitter(s) on a short term consistent schedule.
Please note that we do not recruit specifically for your family. We recruit high-quality sitters to the BC team and we pull from that pool of candidates when trying to find you a consistent sitter. We recommend reaching out to a nanny agency if you would like someone who is recruited specifically to fit your family's needs.
Being matched with and using our sitters requires membership to Babysitting Connection. And as a member you get access to our entire team of sitters. Outside of your consistent care, you are welcome to book any of our other great options any time. You must upgrade to the package that you will need for your Consistent Care if you join with a lower level package while we conduct your search.
To join our Consistent Care program, please email paty@babysittingconnection.com. Depending on the demand in your city, our program may be full. However, if that is the case, Paty will add you to our waitlist to notify once we open spots.
If you are needing long-term care with one nanny recruited specifically for your family, we recommend reaching out to The Bundled Baby or The Nanny League!
Frequently Asked Questions
I have a newborn or baby. Should I use your serivce?
Yes! We have tons of sitters with newborn, baby, and infant experience. Our sitters will let you know which ages they are comfortable with in their bio before you select them. We also know that every family is different and we have a form that every family can fill out to let their sitter know what is expected. You can see and use the form below!
What happens once I request a sitter? +
Once you select a sitter, it will send them an email notifying them. Your sitter will have 48 hours to accept or reject your sit. If your sitter accepts your sit, you will be sent a confirmation email. If your sitter is unable to take the sit, we will either rebook for you with a different sitter or let you know so that you can rebook yourself - depending on your preference.
We receive roughly 60+ sits each day and we always have our eyes on your request. When sits are booked more than 48 hours in advance it is very rare we are unable to get it covered.
Do you have COVID-19 vaccinated sitters? +
Yes we do! About 80% of our sitters are fully vaccinated against COVID-19 and you can see this info in their bios when you login to book someone.
What areas in San Antonio do you cover? +
We have sitters who accept sits in:
All of San Antonio
North of San Antonio - Bulverde & Boerne
East of San Antonio - Schertz, Seguin & New Braunfels
West of San Antonio - Helotes & Castroville
What areas in Austin do you cover? +
We have sitters who accept sits in
All of Austin
North of Austin - Pflugerville, Round Rock, Georgetown, Cedar Park, Leander & Liberty Hill
East of Austin - Manor & Bastrop
South of Austin - Del Valle, Buda, Kyle & San Marcos
West of Austin - Bee Cave, Lakeway, Lago Vista, Spicewood, Driftwood & Dripping Springs
What is Consistent Care? +
We are no longer accepting submissions for Summer Consistent Care in Austin. Please contact us for care starting in the Fall though! We are still accepting Summer submissions in San Antonio.
Consistent Care is for families that prefer to have the same one or two sitters provide childcare for 20+ hours each week on a set schedule.
When you apply for our Consistent Care program, you will let us know what you are looking for in terms of weekly hours and your sitter's preferred experience and skills. You will then be sent information on 1-3 sitters who are interested in being matched with your family. From there, you will have the opportunity to speak with each sitter and decide which one(s) you would like to move forward with.
If you are interested in being matched with a sitter for 20-40 hours per week, please email us (beth@babysittingconnection.com)! We require families to become members prior to us beginning our match process. Families are welcome to join with our smallest membership to start and you may upgrade, downgrade or cancel at at anytime.
Please note that you will still have access to our entire database of sitters and can book any of them for sits outside of your normal consistent care schedule. We are also able to easily provide replacement care should you consistent sitters be unable to sit on specific days.
You can always email Beth for more information or questions below.
Am I allowed to meet my sitter prior to my sit? +
Your sitter will reach out to you via text 24-48 hours prior to the sit. Out of respect for our sitters' time and the number of families our sitters sit for, we do not allow members to meet with their sitters before a sit. We recommend adding an extra 15 minutes to your sit time if you would like to be there with your sitter and children to facilitate the introduction and go over any expectations with them.
How do I upgrade/downgrade my membership? +
You can upgrade (or downgrade) your package at any time to avoid these additional fees by doing the following steps. When you upgrade you will be charged a prorated amount of the new membership level for the remainder of your billing cycle.
1. Click Member Login in your city on the top of our website
2. Login
3. Select "Manage My Account"
4. Under Current Subscription, select "Upgrade or Change Plan"
5. Select the package to which you would like to switch
6 Confirm Change
How do I cancel my membership? +
You can cancel your membership at any time by doing the following steps.
1. Click Member Login in your city on the top of our website
2. Login
3. Select "Manage My Account"
4. Under Current Subscription, select "Cancel Membership"
5. Confirm Change.
Where do you find your sitters? +
We search the city for the top sitters for our members and love referrals from our current sitters and members. We also contact sitters through local babysitting message boards as well as recruit directly from local Universities.
How are your sitters certified? +
Our Owner Beth meets each babysitter candidate for an in person or virtual interview. Once they complete their interview and are offered an opportunity to join Babysitting Connection they go through an extensive background and driving record check.
Through Active Screening, we conduct a Social Security Number Trace, Sex Offender Registry Check, Global Watchlist Check, National Criminal Search, FCRA Compliance tools and a Motor Vehicle Record Check.
Sitters also must verify that they have a valid drivers license and reliable transportation, an up to date CPR Certification and are at least 18 years of age.
After completing each of these steps successfully, they are then added to our roster and are officially a Babysitting Connection Sitter!
What happens if my sitter doesn't show? +
We are proud to say, that in over 15,000 sits, this has happened only a handful of times. But here is our policy just in case:
Both you and your sitter are sent a confirmation email or text 24 hours prior to your scheduled sit. We do all that we can to ensure that our sitters show up, on time, for your scheduled sit. In the event that a sitter is a no call, and no show, please contact Beth immediately and she will do all that she can to find a sitter as soon as possible and refund any sitting fees paid.
What happens if we don't hit it off with our sitter? +
First, I apologize, we try to include enough information in our Sitter's bios to help ensure a proper fit for your family. We have over 100 sitters on our roster and encourage you to try another sitter that may better fit with your families needs.
What happens if you want to book the same sitter again for the next sit? +
We love that you and your family hit it off with our sitter!! Next time you book, keep an eye out for them on the roster to book them again, you can also select their name from the drop down menu and see all of their availailbity. You may also speak to the sitter directly about their upcoming availability. But remember, members are not allowed to book Babysitting Connection Sitters outside of our agency and all sits must be booked through the scheduling software. To ensure the best selection of sitters we encourage you to book your sitter at least two weeks in advance.
What if there is an issue with our sitter? +
If there is an issue that you and the sitter are unable to resolve on your own, please contact Beth immediately to discuss further.