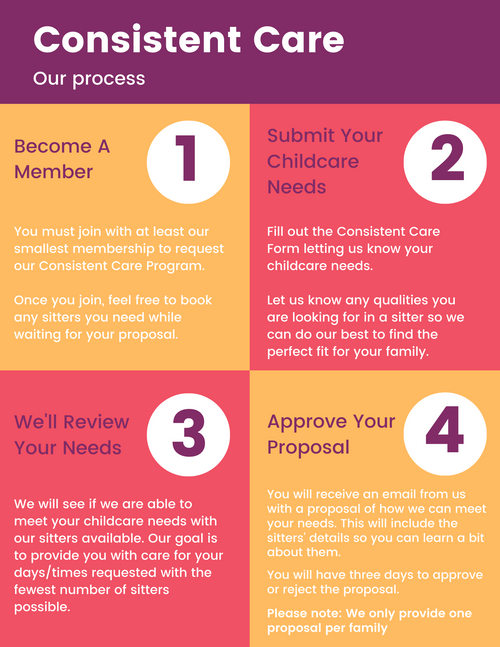 This program is designed to help families with short term consistent care for 6 weeks up to 3 months.
Our Consistent Care program was created to match sitters to families who are interested in care 20-40 hours/week with the same sitter(s) on a short term consistent schedule.
Please note that we do not recruit specifically for your family. We recruit high-quality sitters to the BC team and we pull from that pool of candidates when trying to find you a consistent sitter. We recommend reaching out to a nanny agency if you would like someone who is recruited specifically to fit your family's needs.
Being matched with and using our sitters requires membership to Babysitting Connection. And as a member you get access to our entire team of sitters. Outside of your consistent care, you are welcome to book any of our other great options any time. You must upgrade to the package that you will need for your Consistent Care if you join with a lower level package while we conduct your search.
Our Consistent Care windows are below. Our waitlist form will remain open until it is full. If you see the form is closed, you are welcome to become a member and book sitters as you need, as well as join our mailing list to stay up to date with when our list will reopen.
Fall Care (August - December): Window opens June 1
Winter Care (December - March): Window opens October 1
Spring Care (March - June): Window opens January 1
Summer Care (June - August): Window opens April 1
Austin Summer Waitlist Closed!San Antonio Summer Waitlist Open!DFW Summer Waitlist Open!
If you are needing long-term care with one nanny recruited specifically for your family, we recommend reaching out to The Bundled Baby or The Nanny League!